What Is a Relapse Prevention Plan?
When you have quit using drugs and alcohol and are exiting your inpatient rehab or outpatient addiction treatment program, it is important to have a relapse prevention plan. In Los Angeles, The Detox Center of LA is an inpatient rehab center that provides you with strategies that will reduce your risk of relapse and returning to substance abuse after your treatment is complete. This plan is comprehensive, with techniques, tools, and proactive measures you can utilize to stay away from drugs and alcohol, and the temptations and triggers that may induce relapse.
Contact The Detox Center of Los Angeles today at (888) 346-4350 to learn how to access our addiction treatment programs.
Addiction is a chronic brain disorder, so even when you think "I've got this", sometimes the urge to use substances can become overwhelming. With a relapse prevention plan, you will be able to diminish the risks you will have to deal with, and you will know what to do when things are difficult or you feel stressed out. Triggers and stress can cause the "fight or flight" response to show up in the body, and without proper coping techniques, it may be easy to turn back to drugs and alcohol.
Joining one or more aftercare programs is a good way to stay accountable and keep you connected to sober community members after rehab, and you can remain in these programs for as long as you want, and be as involved with them as you wish. Common aftercare programs include:
Alumni programs

– stay in touch with your rehab treatment team, former patients, and other sober peers. Alumni groups are all unique and may organize outings, gatherings, meetings, and support systems.

Sober living homes

– you can move into a home with other sober roommates, with strict rules around substance abuse, house meetings, payments, drug screening, and household chores, providing you with stability and a safe place to live as you transition back to life in your community as a sober individual.

In-person support groups

– mutual support recovery groups like 12-step groups (Alcoholics Anonymous, Narcotics Anonymous, etc.), SMART recovery groups, classes, therapy groups, and other options that connect you with peers and remind you that you are not alone can help reinforce your recovery.

Therapy

– keeping up with therapy, either in an intensive outpatient rehab program or going to a private therapist can help you continue to work on yourself and improve your quality of life.

Online therapy and support groups

– many people do not live in city centers with several options for treatment. Some communities are vastly underserved when it comes to mental health and addictions, but online treatments are available through many rehab centers to keep you on track no matter where you are in the country

Case management services

– many rehab centers will offer case management services to help you get ready to return to life out in the "real world" after inpatient rehab. They can act as your support, your guide, and your advocate, helping you find housing, childcare, legal advice, doctors, therapists, and other care in your community.
Top Components of A Relapse Prevention Plan
For a relapse prevention program to work, it needs to have the following components:
Ensuring you understand the severity of your condition through education

Identification of any hurdles or barriers you may run into, with plans on what to do when this occurs. This includes avoiding high-risk scenarios like attending a party at an old friend's house or going to a pub with work colleagues.

Realistic and achievable life goals like finding a job or going to the gym 3 times a week, thinking about the type of life you want to live, and then taking the steps to live that way.

Appointments set with doctors, therapists, case managers, and other care providers

A sustainable self-management plan, like creating a weekly schedule that includes healthy activities, a good sleep schedule, and meal planning.

An introduction to support groups, peer groups, and alumni groups

A variety of healthy activities you can do when you feel bored, lonely, or triggered, like hobbies, exercise, meditation, journaling, etc.

A plan that will come into play when you run into triggers while out living your life (what to do, who to call, etc.) You may even practice conversations beforehand.

A plan for what to do in case relapse happens and knowing when to ask for help.
How To Put A Relapse Prevention Plan Together
Some methods you can use to make your own relapse prevention plan include:
Figure out what your triggers may be beforehand, then work to avoid them. This includes old friends and hangout spots where you used to drink or use drugs.

Set strong boundaries and uphold those boundaries. Put your recovery first and do not allow people to cross them.

Stay organized and develop routines that keep you busy, as boredom and loneliness can be triggers for substance abuse.

Work on your coping skills for stress, like exercise, deep breathing, meditation, and healthy distractions.

Resolve problems at work, at home, and with friends right away, and make sure you are on top of all your responsibilities so stress does not become overwhelming. Be on time for work, pay all your bills, text your friends back, etc.

Develop your social network, reconnect with supportive and caring friends, mend relationships with loved ones, and grow your sober community by attending social events, gatherings and meetings.

Be aware of where you are and what is happening around you, identifying triggers so you know when to exercise more caution.

If you know that holidays or celebrations are triggers for you, avoid these events when possible.

If certain themes depicted in media cause triggering emotions, you may wish to check a website like doesthedogdie.com before watching a TV show or movie to find out whether these types of themes are present.

Ensure you are living somewhere safe and supportive, surrounded by people who care for you and are non-judgmental.

Continue seeing your therapist, taking your meds, attending regular doctor's appointments, etc., and taking care of your body and your mental health so you can remain in control over your own wellness.

Knowing the signs of relapse early on is an essential part of a relapse prevention program. Check in with yourself and be honest about your thoughts, your feelings, and your behaviors, and whether or not they are still in line with your recovery. Some warning signs to look out for include:

Starting to isolate yourself from family and friends and lying to others

Not caring about your hygiene, sleeping habits, and eating habits; not practicing self-care

Avoiding therapy and groups, or going and not participating in discussions

Thinking about using drugs or drinking; experiencing cravings; telling yourself "Just one" won't hurt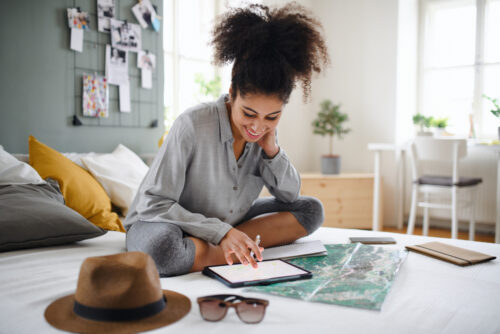 How Common Is Relapse?
Relapse is extremely common, with around 40% to 50% of people relapsing within one month of leaving an inpatient rehab program, and 85% of people relapsing within one year. The road to recovery is a difficult, winding road upon which you may backtrack once or twice, but it is important to remember that slipping up does not mean you have failed. It is almost never the case that a person simply walks away from substance abuse for good the first time they try. Common reasons for people to relapse include:
Experiencing withdrawal symptoms

Living with untreated mental health issues or emotional pain

Poor self-care

Feeling bored or lonely

Feeling overconfident in their sobriety

The environment they are in

Not dealing with stressful situations in a timely manner
Relapse is a fact in many people's recoveries, but you can always wake up the next day and choose to return to your recovery plan or seek help from a professional rehabilitation center if you are overwhelmed and need help.
Relapse Prevention Resources at The Detox Center
You can come to The Detox Center of LA if you are experiencing signs of relapse, have slipped up and begun using again, or have returned to full-blown addiction after recovering. We are a team of non-judgmental professionals who simply want to help you, whether it is your first time or your sixth, we are here for you and will help you find the right combination of treatments that will work for your unique needs and address the root causes of your addiction. We may provide tailored behavioral, emotional, social, physical, and mental health treatments that include:
Individual addiction therapy

40-47 hours/week of group therapy

Family therapy

Interpersonal psychotherapy

Psychoeducation

Case management services

Experiential therapy

Art therapy

Yoga therapy

Meditation

Acupuncture

Breathwork

Exercise and physical fitness programs

Dual diagnosis treatment for co-occurring mental illness with addictions like post-traumatic stress disorder, anxiety, depression, mood disorders or bipolar disorders

Behavioral health treatments like cognitive behavioral therapy, dialectical behavior therapy, and cognitive restructuring groups
Although we are an inpatient rehab facility, our patients are not left on their own once their treatment plan is complete. We work with each of our patients to create a relapse prevention program that is realistic, practical, and that addresses your needs as an individual. For example, if you are a single parent, you may need to find support groups that run while the kids are in school or on weekends when you have childcare, or if you live in a small community far from addiction resources of the city, you may need remote online support. If you find that your family members or roommates have started drinking or using drugs in the home, you may wish to be connected to a sober living home in your area. At The Detox Center of LA, we can connect you with nearby homes, outpatient treatment centers, 12-step groups, and other alumni and peer support groups so you never feel alone as you work on your long-term recovery.