Irvine Drug Addiction Treatment: What Is Spiritual Therapy?
When you think of a drug addiction treatment program, many will think of the various therapeutic approaches designed to treat addiction's physical and psychological impacts. While these are critical components of your recovery, it is important to remember that substance abuse impacts your body and mind and affects your spirit and spiritual health. That is why in drug addiction treatment Irvine, therapeutic approaches are designed to revive your spirit from the impacts of drug abuse. Our sense of spirit is pivotal in how we perceive ourselves, find purpose in our lives, and receive fulfillment and joy from our daily interactions and engagements. 
Spiritual therapy in addiction treatment focuses on restoring a person's spiritual beliefs and developing a stronger foundation of who you are outside of your addiction to establish a renewed sense of self outside of substance abuse and addiction. The term spirituality does not refer to a person finding religious faith. For some, this may be the case and for others, it is about finding something to believe in that is greater than yourself and allowing you to connect with yourself and the world around you. Defining a belief bigger than yourself helps you navigate your recovery and place your trust and faith in your recovery process and life in general. Oftentimes in the midst of an addiction, many will lose sight of the future, have hindered views or trust in others, and struggle to find a purpose in life. Developing a sense of spirituality or faith in something larger than yourself allows you to place trust in the fact that your life will work out, you will find hope, and that you have the trust in yourself that recovering from addiction is possible. 
Contact The Detox Center of Los Angeles today at (888) 346-4350 to learn how to access our addiction treatment programs.
What are the Benefits of Spiritual Therapy for Drug Addiction Treatment in Irvine?
Having a sense of spirituality has benefits for any person including those that are undergoing addiction treatment. Engaging in spiritual therapy while in drug addiction treatment near Irvine offers patients the following benefits to their recovery process: 
Enhancing your healing process. Spirituality offers a unique experience where you can process your past of addiction and the actions you have taken during your addiction. It is common for many people in addiction to have situations or actions that they harbor feelings of guilt and shame about. Once you have worked towards spiritual healing, you can release those feelings and find it within yourself to forgive yourself for past actions. 

Developing a sense of belonging. As you find your own spiritual path and healing process, many will find that you are connected to something larger than yourself and provide a sense of belonging and connection with others or a power bigger than yourself. 

A renewed sense of gratitude. Spirituality encourages you to take the time to reflect on the positive things within your life. Practicing daily gratitude helps you appreciate what you have and celebrate the progress you have made in your recovery journey. 

Establishing a sense of purpose. As you heal from within and connect to your larger beliefs and values, it provides opportunities for you to gain clarity on what is important for you in your life. As you establish a sense of purpose, many find that they experience an increased sense of confidence, self-esteem, and self-love. 

Healthy self-reflection and discovery. Spirituality helps people become attuned to their emotions, thoughts, and behaviors. As you stay connected to your spiritual beliefs, it opens the door for regular self-reflection, processing, and reflection that help you continuously grow and develop into a positive, healthy version of yourself. 

Offers strength through difficult times. Whether you are in the midst of your addiction or navigating your way through addiction recovery, there are times when life will have hardships and challenges presented to you. Being in tune with your spiritual health and spirituality will provide you with the inner strength that you need to overcome challenges safely in a calm, healthy, and positive manner.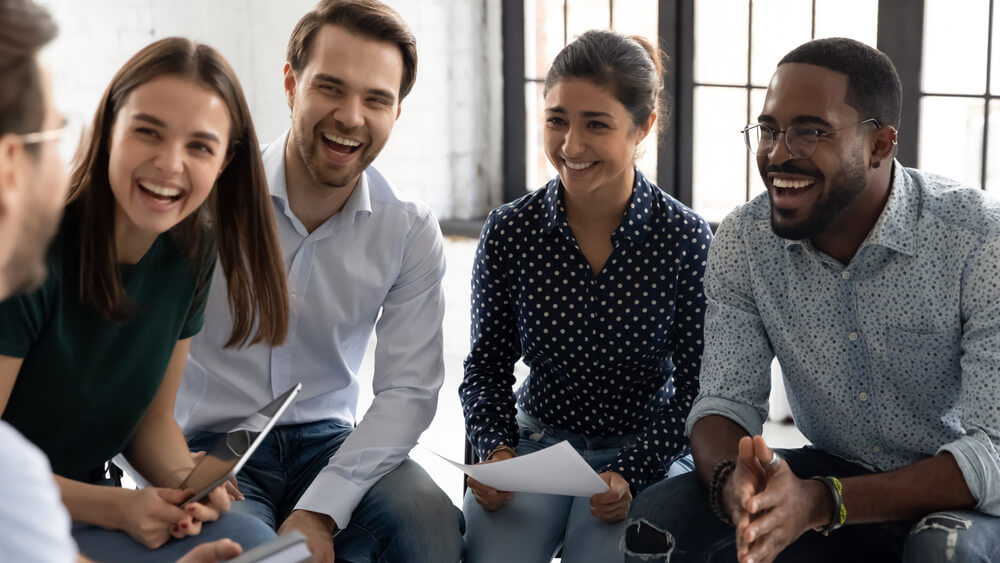 Who Is Spiritual Therapy Best For at a Drug Addiction Treatment Irvine?
Every person has what it takes to tap into their spiritual side. If you are unsure if spiritual therapy is right for you, it is important to reflect on your journey with addiction and now your journey within addiction recovery. Just as your experiences with addiction were unique to you, your spiritual identity and beliefs will be unique and personal to you. There isn't one specific way to be spiritual. It looks different for each person. With the support of spiritual therapy, you can establish a foundation in recovery and spirituality centered around your specific beliefs, values, and needs. While you are in drug addiction treatment in Irvine, you will be provided with several therapeutic approaches and activities that will help foster and create a sense of spirituality within patients. You will be encouraged to try the different methods, including meditation, 12-step recovery programs, mindfulness techniques, music or art therapy, reflective writing or journaling, or self-reflection methods. As you try new methods of spiritual therapy, you will find the path of spirituality that fits you and your values and beliefs, allowing you to find connection, meaning, and purpose. 
Drug Addiction Treatment Irvine: Is Spiritual Therapy Covered by Insurance?
Addiction treatment is a multi-faceted approach encompassing several therapeutic styles and methods. After the Affordable Care Act was enlisted, insurance companies recognized the importance of mental health and substance abuse treatment. Depending on your specific insurance plan and the coverage available, you will typically have a portion or all of the cost of your treatment program covered. Most spiritual therapies are part of a larger Irvine drug addiction treatment plan that the insurance companies recognize as a holistic therapeutic approach to substance abuse treatment. However, each insurance company offers varying levels of coverage which is why the insurance and admission specialists at The Detox Center of L.A. will support you in verifying your insurance and exploring the coverages that are offered within your specific plan. 
Spiritual Therapy Is Offered at The Detox Center of L.A.
Healing from drug addiction requires a comprehensive approach to healing that factors in your healing needs within your body, mind, and spirit. Patients within our recovery center are offered a full continuum of care including medical detox, inpatient rehab, outpatient treatment services, and aftercare planning that will place a focus on healing through traditional evidence-based therapy methods, holistic therapies, medical treatments, and spiritual therapy. We believe that for you to have long-lasting success in addiction recovery, it is important that you are provided with a treatment program that supports you in healing from the root causes of your addiction while enabling you to find purpose, meaning, and fulfillment in a new lifestyle of recovery, health, and wellness. As you reside within your recovery center, our team will empower you to reconnect with your spirituality again and establish a renewed sense of faith, belonging, and purpose through a healthy spiritual connection. If you are ready to take strides towards long-term recovery and spiritual connection, call us today to begin your road to recovery now.