Developing an addiction to Fentanyl is a very dangerous situation for anyone. This is due to the fact that Fentanyl overdoses occur at an alarming rate caused by the drug is much more powerful than even other prescription opioids. Fentanyl has added a very deadly aspect to the already troubling opioid epidemic that has been going on in the United States for the better part of two decades. Opioid addictions can begin in a variety of ways, including when synthetic opioids are taken as directed. That is why it is very important to always follow a doctor's orders exactly and report any changes as to how a drug is affecting you immediately.
Opioid use disorders can be very damaging to many areas of a person's life, but there is help available. At The Detox Center of Los Angeles, we offer medical detox, residential treatment, and outpatient treatment options. We also offer specialized drug rehabilitation programs, including cognitive behavioral therapies. If you or one of your loved ones has been abusing Fentanyl, is experiencing Fentanyl withdrawal symptoms, or has any other issues with drug abuse, please call us today.
Contact The Detox Center of Los Angeles today at (888) 346-4350 to learn how to access our addiction treatment programs.
How To Find A Drug Rehab for Fentanyl in Los Angeles
Finding the substance abuse center in Los Angeles that is the right fit for you is the first step in your journey.  No matter whether it is meth addiction, cocaine addiction, heroin addiction, or an issue with other substances including any opioids like Fentanyl, at The Detox Center of LA we have programs for almost everyone. All of our inpatient rehab and outpatient programs are fully customized to meet the addiction treatment needs of each individual client.  We have a wide variety of behavioral therapy options, and other alternative therapies, in addition to traditional rehab approaches.  This allows us to combine different treatments for drugs and alcohol that address the damage that has been done to a person's mind, body, and spirit as they begin their addiction recovery.
What Fentanyl Drug Rehab Is Like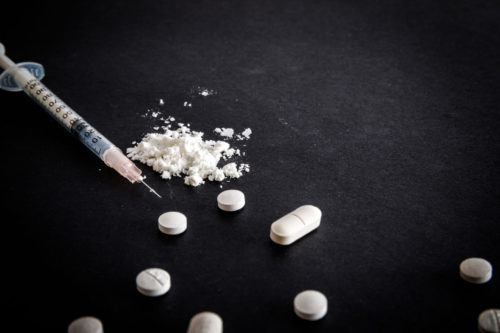 The drug or alcohol treatment experience for each individual differs depending on factors about themselves and their addiction. Fentanyl addiction treatment may begin with drug detox, as people with drug addictions will often experience withdrawal symptoms when they stop using. If medically assisted or medically supervised detoxification is needed, it is important for that to be arranged before a person stops using, so that their withdrawal symptoms can be managed. Fentanyl withdrawal symptoms can be severe and around-the-clock care is essential to mitigating issues up to and including overdose deaths during a relapse. Once the symptoms of Fentanyl withdrawal have been managed and are minimal or no longer present, Fentanyl treatment can begin including multiple therapy options. Inpatient rehab, outpatient substance abuse treatment, and dual diagnosis treatment are all available.  Fentanyl rehab can include individual therapy or group sessions, or both, as well as optional treatment like family therapy.  
Fentanyl Detox Los Angeles
As part of our medically assisted program for Fentanyl detox, you may be administered drugs like buprenorphine and methadone which are often used for opioid detox. Fentanyl addicts may need to be weaned off of their opioid use due to the severity of cravings and withdrawal symptoms.  Each patient that works with us at The Detox Center of Los Angeles has a customized treatment plan developed for them based on their Fentanyl abuse.  We also ensure that any dual diagnosis issues are dealt with properly from day one, too. 
The Detox Center LA Drug Rehab for Fentanyl
Call us today at The Detox Center of LA to hear more about our detox programs and substance treatment programs.  We are here and ready to help you or any of your loved ones with successful addiction recovery.