The Detox Center of L.A. Residential facility offers an in-house detox program and comprehensive care. Clients reside at the facility full-time in a highly structured environment with knowledgeable, experienced staff that can relate to each resident. Individuals can expect personalized care and programming throughout each day of the week.
In-House Detox
The in-house detox program assists clients in safely and effectively ridding the body of harmful substances. A team of professional staff members creates an individualized plan to manage each client's withdrawal symptoms as comfortably as possible. After the detox period, clients will be transitioned to the next step in the recovery process. Since the detox clinic is in-house, there is greater stability and less stress as clients will not need to transfer from one facility to another.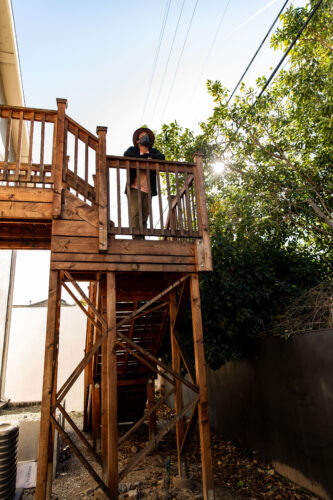 The initial 5-10 day medically supervised detox medication regimen safely assists clients throughout the withdrawal process. Upon completion of the detox program, clients will undergo 20-30 days of intensive therapy in Residential care that includes group, individual, experiential, and family therapy. Medications utilized in detox include:
Suboxone – opiate withdrawal
Phenobarbital – alcohol and benzo withdrawal
Ativan / Valium
Seroquel
Trazedone
Gabapentin
Clients who choose The Detox Center of L.A. Residential are able to escape from their everyday lives and focus only on their recovery. It is ideal for individuals who are suffering from moderate to severe addictive symptoms. Residential care provides a safe environment free of triggers and distractions. At The Detox Center of L.A. Residential, we focus on building acceptance, safety, and self-awareness.
Therapy Ideology
The Detox Center of L.A. Residential incorporates solution-focused therapy modality. Our ideology focuses more on the problem at hand. We take a trauma-informed solution-focused approach that incorporates various therapeutic techniques to increase self-efficacy. Our goal for our clients is for them to build acceptance, safety, and self-awareness. We want to be a partner for helping someone work through their own issues.
We offer an integrative therapeutic approach for those in early recovery. Our clinicians incorporate cognitive behavior therapy, mindfulness, solution focused and humanistic theories to assist individuals with reaching their goals. We strive to create a safe environment to help people learn more about their addiction, learn skills to better their lives and work towards a more helpful future.
The Detox Center of L.A. Residential Amenities
Healthy nutritional meals with a private chef
Salt water therapy
Breathwork
Cable television in semi-private and private rooms
Transportation to appointments, 12-step meetings, and weekly outings
Recovery and life skills training
Meetings with counselor approved sponsors
24 hour on-call psychiatrist, nurse practitioner, and physician's assistant
Experiential outings
Residential Staff
Our clinical team of professionals is on hand to aid in every aspect of our client's journey to recovery.
Tech staff – The tech staff is responsible for the day to day interaction with clients, client safety, client support. They also assist in attendance to programming, assuring that basic needs are met, and ensuring that all programming is communicated to clients. They handle scheduling and transportation responsibilities, outings, and third-party appointments as well.
Nursing staff – In partnership with doctors orders, the nursing staff manages medications, communicates with the doctor, helps with any physical ailments, completes overall wellness checks, and facilitates change in medications.
Therapeutic staff – One-on-one and group setting therapeutic help clients to dig into deeper issues and realize the core problems that they are experiencing. Therapeutic staff members help to get the client to a clear state of mind. Our therapists are trustworthy individuals who are looking out for the clients best interest and doing what is possible to assist in long-term goals and sobriety.
Operational staff – These staff members are responsible for the overall flow of the program and making sure that the larger needs are being met. The goal of the operational staff is to run a smooth, organized efficient program to remove any chaos from the environment. Rehab is an intense process and our operational staff is there to assist in making the program predictable and stable.
Medical staff – Our doctor is a board certified addiction specialist that will meet with you upon intake to determine what would be the best medically assisted detox plan as well as attend to medical issues.
Private chef – At The Detox Center of L.A., we feel that the mind, body, and soul is a proven prescription for success and growth in treatment. We follow a healthy, nutritious and proper dietary guidelines while also educating clients about the benefits in pursuing a healthy lifestyle. Proper nutrition as well as delivering nourishing, exciting meals is one of the essential aspects of achievement in recovery. In fact, research shows that nutrient-rich diets help reverse substance reduced health problems by restoring neurotransmitter production, healing vital organs and dampening cravings. Our executive chef is experienced and educated in all dietary and nutritional aspects of treatment foodservice. This enables him and his team to assist and guide each client during their rehabilitation journey. Culinary staff communicates daily with our nursing and clinical staff to help assure each client is supplied with their daily, individual needs. We happily accommodate special diets including vegetarian, gluten-free, kosher, etc.
The Detox Center of L.A. Residential Treatment Programs
Individual programming – a private one on one session with either a therapist or case manager to touch on issues causing the root problem of addiction and helps to personalize a treatment program throughout your stay
Group therapy – can lead to a profound experience as a result of community support and relying on others for help while also learning from like-minded individuals
Family therapy – if appropriate at the consent of the individual, family therapy is introduced at the residential stage as part of the treatment plan
What We Treat
Substance abuse
Anxiety
Depression
Borderline Personality Disorder
Anger
Impulsivity
Bipolar Disorder
Grief and Loss
Post-Traumatic Stress Disorder
+ More
Verify Your Insurance Now
We accept most major private & commercial insurances.
Verify your insurance in 5 min!
Contact
Residential Drug and Alcohol Rehabilitation
The Detox Center of LA Residential facility in Los Angeles, California offers an in-house detox programs and rehabilitation programs for those who struggle with drug and alcohol addiction. Out patients reside at the facility full-time in a highly structured environment with knowledgeable, experienced staff that can relate to each resident. Individuals can expect personalized care and programming throughout each day of the week.