Making the decision to go to rehab for detox of drug or alcohol addiction is a big step and can feel overwhelming. Most people have not had much experience or knowledge about rehab or detox centers, so it is normal to feel anxious and have many questions about the experience. This can be particularly true when it comes to the detox process because of the extreme discomforts and psychiatric effects involved. However, you should know that with medical support through medications, the withdrawal process may be easier than you think.
Contact The Detox Center of Los Angeles today at (888) 346-4350 to learn how to access our addiction treatment programs.
Here we will go through what to expect from the process and a treatment facility in the hopes of quelling several of those fears. Every person's experience in drug detox and rehab will be different, however in general you can expect to put in a lot of hard work but feel incredibly rewarded after.  
How Do You Prepare for Drug and Alcohol Rehab?
Drug and alcohol detox can be painful, uncomfortable, and even dangerous when you attempt it on your own. However, going through a medical detox program, many of these issues are greatly eased or even eliminated through medications, IV fluids, and holistic treatments. While there is no preparation necessary for the detox process, some preparation can help calm nerves about the process and make the experience much easier.
You should expect to spend about a week in inpatient detox care and should pack accordingly. Make sure to bring about a week's worth of comfortable clothing, including socks, underwear, sleepwear, fitness clothing, and comfortable footwear including sneakers. Generally, it is a good idea to avoid any clothes that display alcohol, drugs, or drug paraphernalia. You should also bring your toiletries, prescription medications, a journal or notebook, and photo ID. Your belongings will be inspected before during the admissions process to ensure you do not bring in anything that is not allowed, such as alcohol or drugs.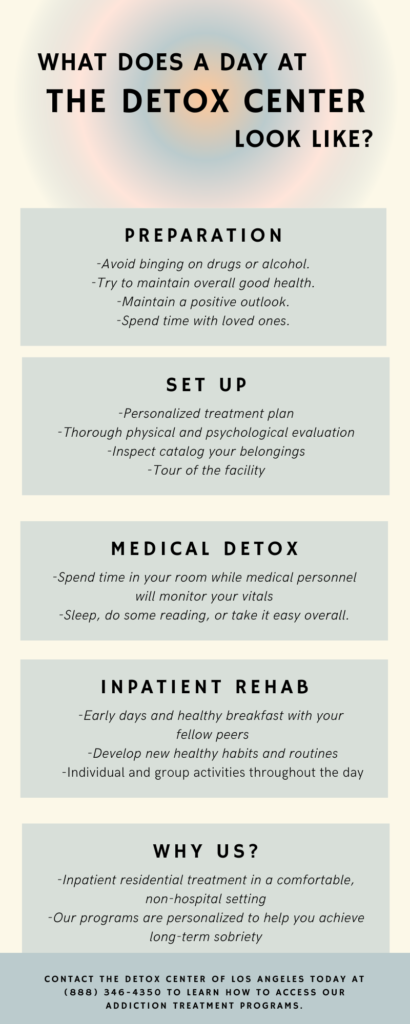 Ways you can prepare for detox both physically and mentally include:
Avoid binging on drugs or alcohol. You may feel like it's your chance and wants to go in with one final super experience, however, it will only make the detox process more difficult. However, also quitting cold turkey with drugs like opioids, benzodiazepines, and alcohol can be dangerous.
Try to maintain overall good health. Even if you continue using drugs or alcohol, make sure you are getting plenty of rest, eating nutritious meals, and drinking enough water which will make withdrawal symptoms easier.
Maintain a positive outlook. You will have a better experience and better recovery outcomes if you focus on the positive and stay motivated.
Spend time with loved ones. Some rehab centers will isolate you from the outside world for a short period of time. Spending time with loved ones before can help support your decision to get sober.
A Typical Day at Our Centers
A typical day at The Detox Center will vary depending on what phase of treatment you are in and your personalized treatment plan. Your first day in detox and rehab will involve a thorough intake procedure. Clinical staff will conduct a thorough physical and psychological evaluation to create a personalized treatment plan.  Intake staff will also inspect all your personal items to ensure you are not bringing anything that is not allowed and catalog your belongings. You will then be given a brief tour of the facility and go through your treatment plan before being taken to your private or semi-private room where you will go through the detox process.
The medical detox portion of the program you can expect to spend most of your time in your room the first few days during the worst part of the withdrawal process. Medical personnel will monitor your vitals around the clock to ensure your safety and place IV fluids. Although medications will make withdrawal symptoms easier, you will still feel under the weather and tired, so you want to sleep a lot, do some reading, or take it easy overall. As you begin to feel better, you can expect to participate in individual and group counseling to begin treating the underlying causes of addiction
Once you transition into inpatient rehab at The Detox Center, you can expect your days to be highly structured and scheduled around several recovery therapies. Your days will start early and enjoy a healthy breakfast with your fellow peers. Part of the recovery process is helping you to develop new healthy habits and routines. The rest of your day will be scheduled with several treatments such as individual therapy, group counseling, art therapy, relapse prevention, denial management, life and social skills, fitness classes, yoga, meditation, and a knightly wrap-up group. All your meals will be prepared by our private chef who is educated and experienced in all dietary and nutritional aspects. Your schedule will also include down time which you can choose to be alone or take advantage of our amenities. We also provide movie nights and phone time after a blackout period.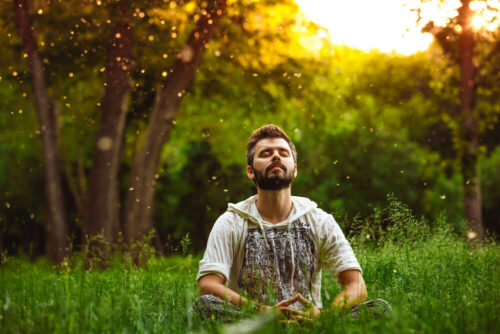 How Long Does Detox Take?
In general, detoxing from drugs and alcohol can take anywhere from 3 to 10 days. Several factors will determine how long it takes your body to detox including overall health, type of substance(s) used, amount and frequency of drug use, and length of addiction. Withdrawal symptoms will typically peak around day 2 or 3 after which you should start feeling better. Within a week you should begin to feel almost back to normal. Occasionally, some people will experience post-acute withdrawal syndrome (PAWS) for weeks or months later which consists of mild, lingering withdrawals.
What Happens After Detox?
Drug and alcohol detox is only the first step in recovery and only addresses physical addiction. Rarely is detox enough to help people overcome addiction in the long run. Continuing with drug rehab is important to address underlying causes, behavioral aspects, and co-occurring disorders and learn coping skills and tools to manage your addiction long-term.
At The Detox Center, you can easily transition into our residential inpatient addiction treatment program. Separating yourself from outside triggers, influences, and stressors allows you to fully focus on your addiction recovery and increase the chances of successful future sobriety. Inpatient rehab is also an immersive experience and has around the clock support. Average residential treatment programs last for 30 to 90 days, but may be longer if needed. Every treatment plan is individualized to fit your personal needs as well and be made up of several evidence based addiction therapies, group counseling, relapse prevention planning, holistic therapies, and educational workshops.
You may also continue with outpatient treatment programs which will vary in intensity but allow you to live at home or a sober living facility. These programs are also good step down programs from inpatient rehabilitation. Addiction is a chronic relapse disorder and you will spend your life managing your symptoms. Aftercare programs and alumni programs can help maintain active recovery efforts and help you transition back into the real world.
Why Choose Our Treatment Programs
The Detox Center of LA offers drug detox and inpatient residential treatment in a comfortable, non-hospital setting. Our programs are personalized to help you achieve long-term sobriety. Our dual diagnosis program will help to treat co-occurring mental health disorders related to your addiction and give you the best chance at recovery.
If you are ready to start the road to recovery, please do not hesitate to call us today. Our programs can help anyone overcome addiction and offer same day admissions when possible.