Recovery Is Possible After Addiction
The mental health disorder that we know as addiction is a far-reaching issue. It is a chronic disease with a high chance of relapsing, even with treatment. The disease of addiction or substance use disorder (addiction) can affect a person's health and mental well-being, relationships, career, and other important parts of their life for a long time, but how long is the addiction recovery timeline?
Addiction is classified as a mental health disorder with effective treatment and management methods. A full recovery from addiction is possible through comprehensive treatment plans that address the mental health disorder with long-term solutions, allowing you to overcome addiction's grip on your behavior and your life. Evidence-based behavioral therapies are proven to help reduce substance-seeking and abusive behavior. With effective relapse prevention strategies and support groups and aftercare programs, sustained recovery can be achieved.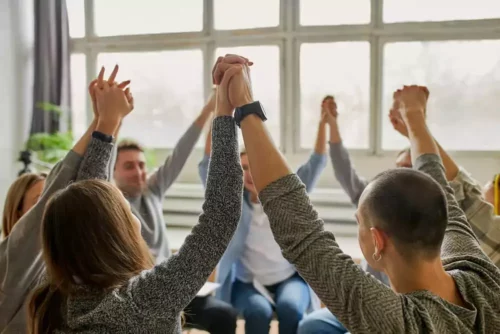 At The Detox Center of Los Angeles, we provide each person with individualized treatment programs for drug and alcohol addiction, including all of the important aspects of treatment such as medical detox, medication-assisted treatment (MAT), behavioral therapy, holistic treatments, and aftercare programs. We provide outpatient rehab programs and inpatient rehab or residential rehab programs.
Contact The Detox Center of Los Angeles today at (888) 346-4350 to learn how to access our addiction treatment programs.
Timeline of Addiction Recovery: What to Expect
Substance use disorder doesn't have a quick fix. As a chronic, relapsing disease, there are ways to manage the mental health disorder. You can expect a long-term personalized addiction treatment plan to be able to achieve a full, sustainable recovery. 
Addiction substances such as alcohol, opioids, meth, cocaine, and prescription drugs create a physical dependence when they are frequently abused. Depending on how the substance affects their brain chemistry, it can take a few times for someone to get hooked on a drug due to higher addiction risks. Once physical dependence takes hold, it will require a detoxification period to help a person to rebalance their brain chemistry.
You can expect to start your recovery journey with a medical detox program if you are addicted to a substance that produces withdrawal symptoms. Some drugs such as cocaine and heroin don't tend to produce life-threatening withdrawal symptoms but other drugs such as Xanax and alcohol require medical assistance to help overcome withdrawal symptoms due to the risk of life-threatening withdrawal symptoms, such as delirium tremens during alcohol detox.
The medical detox helps you by providing you with medication that manages and reduces your withdrawal symptoms. A professional medical detox not only helps you to recover safely but also helps to make the process much easier to handle and get through. The drug-free, supportive environment at an accredited addiction treatment center such as The Detox Center of Los Angeles is the best way to detox from alcohol or drugs. 
Once your detox is complete, the core causes of your addiction must then be dealt with to help prevent relapse. The medical detox only treats the physical reliance on alcohol or drugs and doesn't do anything to treat the underlying causes of addiction. Behavioral therapy and holistic treatments are effective evidence-based ways to treat the causes of your addiction which lie in your biology, development, and environment. 
Behavioral therapy is a key component of effective long-term addiction treatment. Behavioral therapy includes treatment models such as cognitive behavioral therapy, dialectical behavior therapy, and rational emotive behavior therapy among others. An addiction treatment plan will usually include both individual behavioral therapy and group behavioral therapy. These individual and group therapy settings each play a role in helping you to overcome the true causes of your addiction. 
One of the common causes of drug and alcohol addiction is co-occurring mental health disorders. Many people live with untreated mental health disorders such as post-traumatic stress disorder (PTSD). The symptoms of their mental health disorder can be overwhelming and without proper treatment, they often turn to drugs and alcohol as a means to cope with their symptoms. This compounds the problem because drugs and alcohol only provide short-term relief with a massive cost: addiction. 
A person with a mental health disorder co-occurring with their addiction requires a specialized treatment plan called dual diagnosis. Dual diagnosis treats both the mental health disorder and the addiction simultaneously to help sustain recovery and prevent relapse. Without dual diagnosis treatment, the untreated mental health disorder will likely lead to relapse due to overwhelming symptoms from the untreated mental health disorder.
Holistic treatment is the next important aspect of effective substance use disorder treatment. Holistic treatments include all whole-patient treatment programs that aim to treat other aspects of a person's life that may not seem directly related to addiction but addiction is a complex disease with many intertwining elements. Whole-patient treatment programs such as art therapy, equine therapy, and much more help improve a person's quality of life and help them with specific areas that they may need to improve such as job search, interviewing, or communication skills.
The intensive part of your recovery will be carried out at the rehab center. Accredited rehab centers such as The Detox Center of Los Angeles provide you with both inpatient and outpatient treatment programs. Starting with an inpatient rehab program can help you with even the most severe addiction by placing you in an environment where you can completely focus on your recovery with no outside negative distractions. Inpatient or residential rehab will allow you to live at the treatment center for the 30 to 90 days that the program usually lasts. 
After inpatient rehab, using an outpatient rehab program for addiction can help you to transition from the intensive inpatient program to your mainstream life again. Outpatient rehab programs include the same types of therapy and treatments but at a more flexible pace with some programs only requiring treatment for a few hours every other day. Outpatient rehab programs usually last for around 30 to 90 days.
The National Institute on Drug Abuse (NIDA) suggests that a person seeking effective addiction treatment spends at least 90 consecutive days in rehab programs and aftercare services. These 90 days can be a mixture of inpatient, outpatient, and aftercare programs. A roughly 90-day addiction treatment plan personalized to the person's needs can yield excellent results. 
Aftercare programs can continue for weeks, months, or even years. Aftercare programs become important after rehab to maintain sobriety and they include programs such as alumni events, sober living homes, and support groups such as Alcoholics Anonymous (AA). You can continue with these programs for as long as needed to help prevent relapse and actively manage your addiction.
The standard addiction treatment timeline ensures that the person can get help for all of the important aspects of their life and addiction. The Detox Center of Los Angeles can provide you with effective addiction treatment plans to overcome substance use disorder, helping you through every step of your recovery journey. 
The first aspect of addiction treatment is usually a detox. Medical detox provides important medications to help you manage and reduce withdrawal symptoms. Detox is essentially about giving your body time to readjust to no longer having a substance present in the body and that process usually takes about 5 to 10 days depending on the substance and the severity of the addiction. Withdrawal symptoms can begin within hours of the last use of the drug or alcoholic drink and usually peak around two to three days of detox. 
Some people may experience withdrawal symptoms past this detox period, known as post-acute withdrawal syndrome (PAWS). It tends to include psychological symptoms such as depression and anxiety and can include cravings. In some cases, long-term use of drugs such as heroin or opioid prescription pain relievers can lead to persistent problems with the brain's chemical balance which may cause them to be depressed among other symptoms.
Medication-assisted treatment (MAT) programs can help you with persistent withdrawal symptoms that may occur after detox. It is a long-term treatment program that helps to bring balance to your brain chemistry so that you can lead a normal life while also improving the effectiveness of behavioral therapy and holistic treatments.
What the Relapse Rates Mean
Drug and alcohol relapse rates are between 40 and 60 percent; similar to other chronic diseases such as hypertension and diabetes. Addiction is classified as a relapsing, chronic disease, and only through actively managing your addiction symptoms can you truly achieve long-term recovery. But why are the relapse rates so high when treatment is said to be effective?
If we look at other chronic diseases with similar relapse rates such as hypertension, a person can receive treatment for hypertension and the treatment can be very effective. However, if they stop using the treatments that are working or actively managing their hypertension, then symptoms of the disease are expected to return. 
Addiction works in the same way; relapse often occurs because the person decides they no longer need to actively maintain their sobriety by going to support groups or other similar relapse prevention strategies. Relapse also doesn't mean treatment has failed but is most likely because a person has neglected relapse prevention strategies.
Therefore, evidence-based addiction treatment is effective at helping a person to overcome their addiction but when those treatments and strategies are neglected, it can lead to relapse. Some people may have multiple relapses after treatment before finally achieving long-term recovery. 

What Happens After Rehab and Treatment for Addiction?
After rehab, it's important to continue your recovery and actively manage your addiction. This can be done easily with aftercare programs. Aftercare programs include services such as 12-step support groups and sober living homes.
Sober living homes are places where you can live in a house shared with other people who are also in recovery. The homes are drug- and alcohol-free, have house rules and chores, and generally try to keep people to schedule to help them to readjust to mainstream life. It can be an excellent way to ensure that you are actively managing your addiction because you must do so in a sober living home, such as by attending support group meetings.
Aftercare programs for addiction are important and can be used for months after your rehab program has ended. It can help you stay on top of triggers and emotions that would otherwise lead you to relapse.
7 Things to Consider When Choosing an Addiction Recovery Program
Choosing the best addiction treatment center to meet your recovery needs is a crucial part of effective recovery. You can look for several things when choosing an addiction recovery program in Los Angeles that help you to achieve your sobriety goals. They are as follows:
Accreditation:

Accreditation by the Joint Commission can be a good indicator of whether or not a rehab provides evidence-based treatment programs and therapies. It will also mean that they can provide you with prescription medications during detox.

Comprehensive treatment programs:

A comprehensive addiction treatment program provides you with everything you need to recover from addiction including medical detox, behavioral therapy, holistic treatment programs, and aftercare services.

Personalized treatment programs

: Every person is different when it comes to addiction and has it affects them and their causes. Treatment should not be generalized but instead personalized to the individual recovery needs of the person.

Cost and insurance coverage:

Rehab can be costly without good insurance coverage. Your health insurance plan will need to be accepted at your chosen rehab since out-of-network treatment can result in significant out-of-pocket expenses. 

Treatment duration:

Does the rehab provide you with rehab programs that are long enough to be effective? NIDA suggests at least 90 days be spent in rehab so any rehab that offers you a quick solution to addiction should not be trusted.

Location:

If you are looking for a rehab near you in Los Angeles, then a rehab program on the other side of the country can be difficult. However, it may be beneficial to seek out-of-state addiction treatment, too depending on your recovery needs.

Treatment settings:

 If you've gone through an outpatient rehab program before and have since relapsed, you may want to consider choosing a rehab that also provides inpatient rehab programs to help you with more intensive treatment to overcome your addiction, which can be followed by outpatient rehab and then aftercare programs.
Find Addiction Recovery From The Detox Center of L.A.
The Detox Center of Los Angeles is an accredited addiction treatment center that provides specialized and personalized addiction treatment plans for drug and alcohol addiction. Our comprehensive addiction treatment programs will take you through every step of your recovery process and will help you long after your rehab program is complete through our aftercare programs. 
Our compassionate staff members and healthcare workers will provide you with the therapy, treatment, and support to delve into your addiction's core causes and overcome them so that long-term recovery becomes possible. 
Get in touch with The Detox Center of Los Angeles today by calling us at (888) 346-4350 so you can take advantage of our affordable addiction treatment programs.